New EPIC BEARD MEN album is here! Available in stores + on all digital platforms
The new EPIC BEARD MEN LP, "This Was Supposed To Be Fun", is available NOW in stores, on all digital platforms, and in exclusive packages at SFRstore!
Listen on Spotify, Apple Music, Tidal, Amazon Music, or your favorite service.
You can also stream or purchase a digital download on Bandcamp.
Plus, ALL orders from SFRstore now include an INSTANT MP3 Download of the full album!
The EBM UK Tour kicks off in July! TOUR DATES: here
Get your exclusive SFRstore packages here
Available on Colored Vinyl LP, Signed CD, Blacklight-Orange Cassette, and MP3 Download – plus a Deluxe Package including a Backpack + exclusive T-Shirt!
ALL EBM 'TWSTBF' Merch includes an MP3 Download of the full LP!
FOR THE FULL ALBUM WRITE-UP AND EBM BREAKDOWN (Including input from Slug and Scroobius Pip), CLICK HERE.
Check out the video for "Pistol Dave", featuring Slug of Atmosphere, Blue Raspberry of Wu-Tang, and animation by Wasaru! 

This Was Supposed to Be Fun, the debut LP (and second official offering) from EPIC BEARD MEN, is an indie-rap tour de force by two of the underground's finest; Sage Francis and B. Dolan.
This album knocks. It parties with disreputable outlaws in truck stops. It blends the classic sounds of breakbeats and timeless drum machines with soul grooves and sub bass. Guitars, violins, and a goddamn brass band have sat in before the party's over. On the vocal side of things, more than a few lyrical heavyweights drop in to take their turn on the mics.
Slug of Atmosphere joins the gang in some NC-17 fun, as Sage and B. are soulfully backed by Blue Raspberry (Wu-Tang Clan) on the road-noir tale "Pistol Dave". Eligh of Living Legends and South African newcomer Yugen Blakrok contribute blistering verses, while New Orleans Bounce legend Vockah Redu, vocalist Kathleen Stubelek of Circle Takes the Square, and San Antonio upstart Worldwide contribute brilliant supporting turns.
Check out the 2nd video from TWSTBF – "Crumbs In Every Bag" featuring ELIGH! 
Throughout 50 minutes of intricately produced rap music, the duo of storied rapper/poets wander freely and set fires like the latchkey kids they once were. This Was Supposed to Be Fun, but that doesn't mean either emcee has shied away from their signature blend of the personal and political; topics range from the absurd to the unshakably true. EBM are two rap greybeards who aren't afraid to swing freely from dead-serious to wryly hilarious.
TRACKLISTING 
01 Hours & Minutes
02 Sand Dunes
03 Pistol Dave (ft. Slug of Atmosphere & Blue Raspberry)
04 Circle the Wagons
05 Shin Splints
06 You Can't Tell Me Shit
07 Hedges
08 Take A Break (ft. Vockah Redu)
09 The Chill is Gone
10 Man Overboard
11 Crumbs in Every Bag (ft. Eligh)
12 Foresight (ft. Yugen Blakrok)
Stream the full album now at the SFR Bandcamp! (or press play on the player below)

"Hedges", the first single, is a haunting character study in suburban alienation and the collapse of the psychic bonds that used to constitute the great American neighborhood. Sage and B take turns spitting the chorus, like they're shouting across empty, manicured lawns. "Man Overboard" is the album's ironic thesis statement, maybe a metaphor for America itself. The topical track isn't exactly about the VIP Fyre Fest experience, but it's about that kind of thing: You were sold a bill of goods. You expected a private island, a luxury jet, a view of the beach. Then the skies turned dark. The millionaires took the lifeboats and left. Instead of a sunny lagoon, you got dive-bombed by seagulls, rained on. You paid for Club Paradise; you got Lord of the Flies. The "Sand Dunes" are not a tropical beach or a hip-hop singles cruise, for fuck's sake. They're the Sand Dunes out in the woods, past the Pet Cemetery. The sketchy kind of unwatched all-ages party spot where rival warlords go to fight.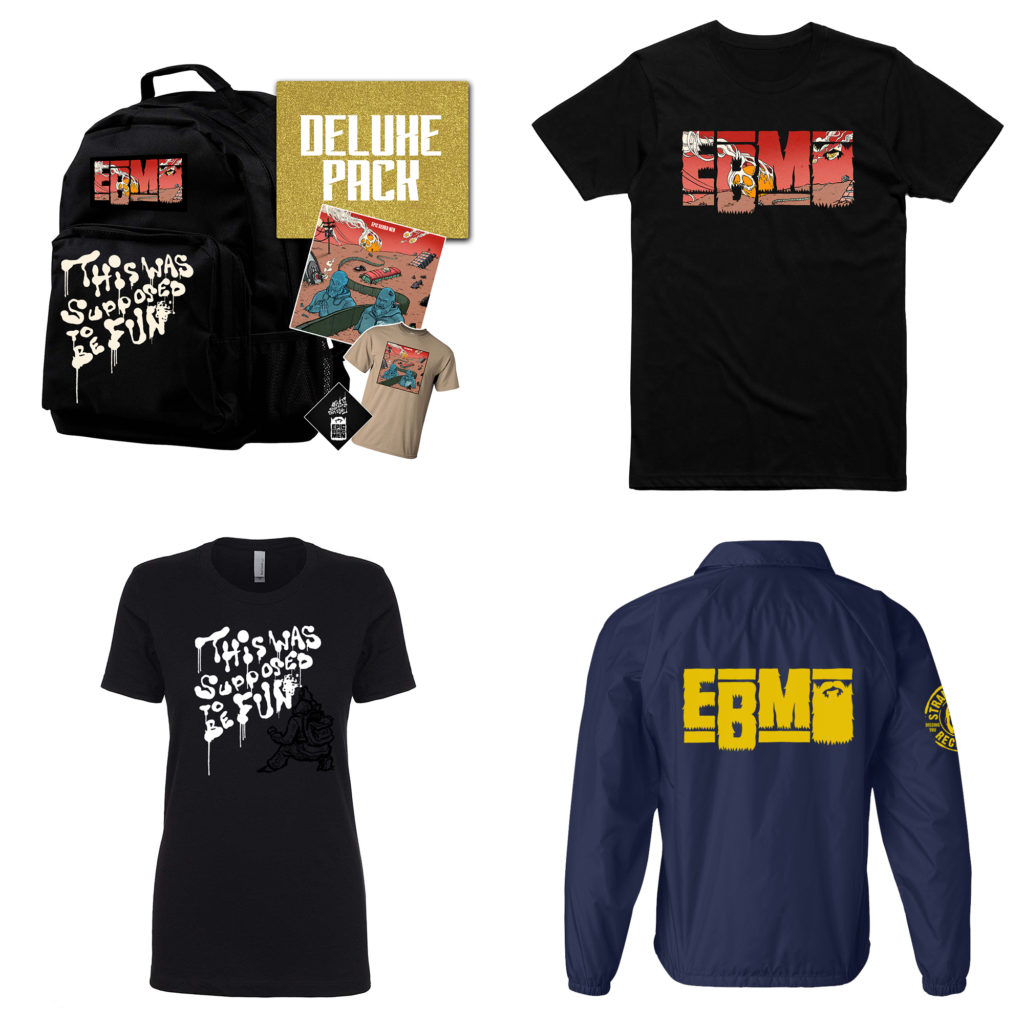 Hailing from the industrial outskirts of Providence, Rhode Island, both artists are walking hip-hop vaults who fiddle with esoteric knowledge over hypnotic, sprawling sample compositions. For well over a decade, no matter how many tours they survived or solo releases they dropped — more than 20 between the two, depending how you count 'em — the members of this dream team and their DIY Econoline ethic endured a certain outsider status in the rap world. Last year's debut EP, Season 1, poked fun at that label, while still delivering a sublime buckshot blast of political commentary, interpersonal dispatches, and healthy introspection. Now the joke isn't so funny anymore.
Epic Beard Men rap and produce like keepers of the flame. They've clearly spent a few thousand hours excavating the crates during the creation of the album, fusing the treasures they've unearthed into the kind of dense hip-hop SONGS you haven't heard much of since the sample-happy days of De La. TWSTBF is filled with sharp, satirical, bombastic edutainment, writ large in neon bubble letters for all the world to fuck off to.
This Was Supposed to Be Fun plays like a dark Buddy Comedy gone spectacularly sideways: the mighty Epic Beard Men are back in the barber chair, fuckin' up your market share. You can't tell them shit. The chill is gone. The chill was never here.
This Was Supposed To Be Fun drops on all streaming services on March 29, 2019.
Physical versions of the album (Colored Vinyl LP, CD, Cassette) can be pre-ordered now at StrangeFamous.com here, and will be available in stores everywhere on May 17, 2019
EBM are on the road throughout 2019, starting in the US in April on the Come To The Sand Dunes Tour. All show info + ticket links are available here
---

Please read carefully! ALL pre orders will be held until the ship date. ALL other items in your shopping cart will also be held until the ship date. If you have items that you may want to receive sooner we suggest placing a separate order for those items.
Orders will ship on or before the release date of Friday, May 17, 2019.*
*Shipping date is subject to change due to manufacturing delays.
Please check this page for the most up-to-date info.
————-
***Please visit the Frequently Asked Questions section of our website here
BEFORE YOU ORDER to review information about our shipping practices & policies. 
Thank you!