Celebrate the 10th Anniversary of SAGE FRANCIS' "Human The Death Dance" with new gear!
Celebrate the 10th anniversary of Sage Francis' "Human The Death Dance" album with a brand new collection of 'YCKMMF' gear!
Plus, sale prices on all HTDD items in stock at SFRstore!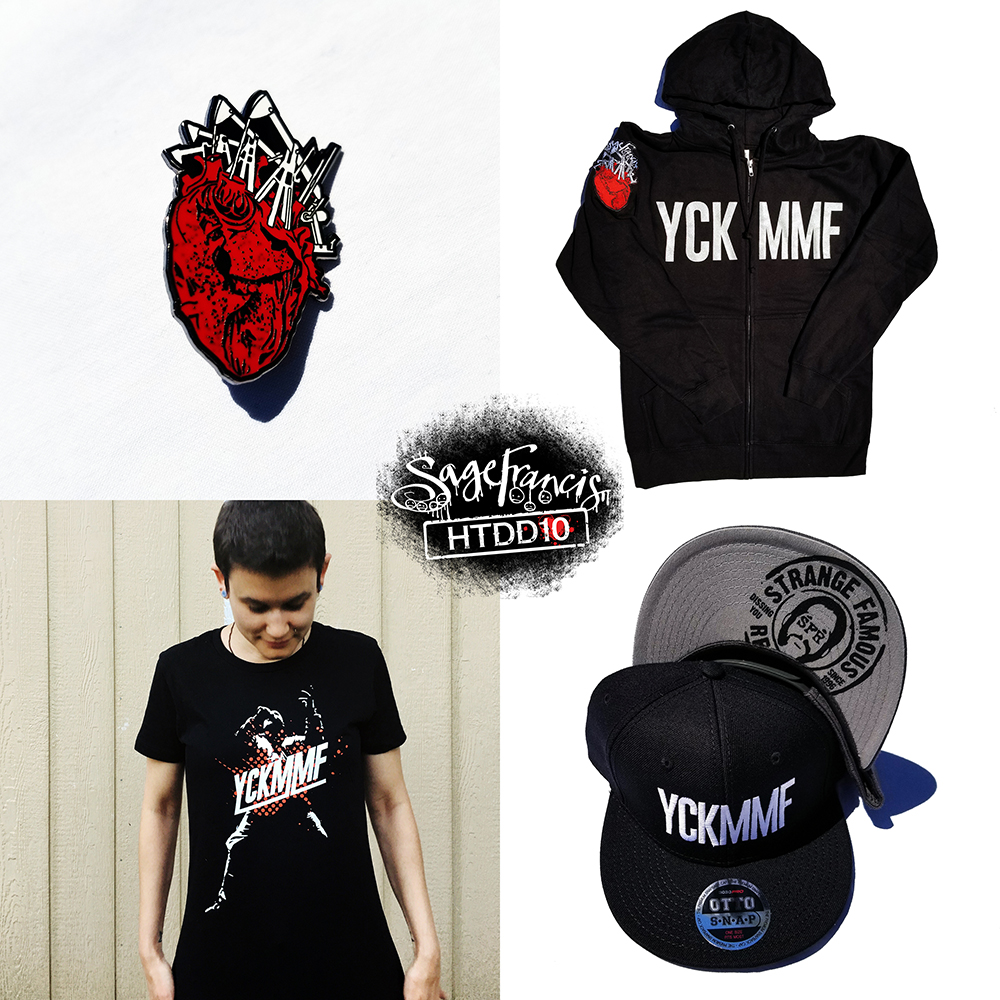 CLICK here TO SEE ALL AVAILABLE MERCH.
---
FREE DOWNLOAD: "Hoofprints in the Sand (SonOfKarl RMX)"

This remix is being offered for free until the end of the year as a show of thanks to everyone who's supported the 10 year anniversary of "Human the Death Dance."
Many thanks to SonOfKarl for the remix and to Metatektur.org (PRIMA) for the photo/artwork.
---
Sage Francis speaks on the creation and anniversary of his 3rd full-length album:
#HTDD10 prt 1 (When Is The New Sh**?)
"Human The Death Dance" has turned 10 years old! To celebrate this milestone, Strange Famous Records is offering limited merch specific to the HTDD's anniversary. Beyond that, I've decided to write a few stories about the album, which will be rolled out in several segments starting with this one. This segment is called "When is the New Sh**?" Ahem…excuse me. Shit. "When is the New *Shit*?"
When I think back on this album, I mostly remember how it was almost over before it started. People who've followed my career from the beginning know that HTDD was a shift in tone from the more angry, punchy, in-your-face political material that I was mostly known prior to its release. The knee jerk reaction from media and fans who wanted "more of the same" was inevitable, but it's not what almost killed the momentum of a career I had started a full decade earlier. Most of the people involved with HTTD's creation and release probably don't remember the most damaging setbacks we encountered during this album's campaign. Hell, most of them probably weren't even aware of what was going on behind the scenes. Thankfully my gut has increased in size over the years, because that's where I carry all of these memories. In the form of stomach ulcers. Carrying on…
The creative seeds for HTTD, as well the landmines, were planted as early as 2005 during the release show for "A Healthy Distrust." AHD was my first album with Epitaph Records which had the biggest promotional campaign of my career. The weight of that moment was not lost on me, but this was also when CD sales were good enough to sustain an indie-musician's life so I just kicked back to play video games while letting the industry do what the industry does. No, not really… I had an inkling that physical sales were not to be relied on so I geared up for the biggest tour schedule of my life. It all kicked off in Boston at a venue called The Middle East.
As I descended the stairs of the sold-out venue I remember feeling a strange mix of pride and anxiety. Proud that I could pack this place out with people who enjoy my music, but anxious about whether I'd be able to deliver what was expected of me. I approached the merch booth at the bottom of the stairs to see how things were going. The very first interaction I had was with a fan whose first words were, "Yoooo, what's up, man?! When's the new shit?" Which was confusing. I said, "What do you mean?" He said, "When is the new shit coming out?" In a very dry and matter of fact manner I said, "This…this is the new shit. This is the record release show." He said, "Nahhhh man, when's the NEXT album coming out? When's the new shit?"
I stopped responding at that point. The realization that AHD was already old to him due to it leaking online a month prior to the release show sank deep into my ulcer gut. Here I was about to perform music from my newest album and it was already "old" to some of the fans who were eager for something new. Not just new, but NEW new. Suddenly I was in a new world I felt too old for. I can't help but feel like this ultimately affected the way I approached my following albums. It took me longer than usual to complete "Human the Death Dance"… which came out two years later… which leaked online 4 months prior to its official release date… which just so happened to coincide with the great decline of physical sales in music… which unfortunately screwed up a lot of business relationships for me in the music biz.
But, hey, this isn't a sob story. This is a 10 year anniversary of my second solo album story. This is a YCKMMF story.
"You can't kill me, muthafuckaaa.
You can't kill me, muthafuckaaaaaaa.
You may try.
But you will die.
You can't kill me, muthafuckaaaaaaaaaaaaa!"
(In the next segment of #HTDD10 I will respond to some of the questions people have in regard to this segment, but the main focus will be on explaining the first HTDD single we leaked which was originally called "Ode to 2005.")
– Sage
---
And now, SFRstore is happy to present to you – the new shit: 
#HTDD10 "Heart" Lapel Pin!
Limited to 100 individually numbered pieces!
The last 4 designs in the SFR pin series sold out in under 36 hours each – get yours before they're gone 4-eva!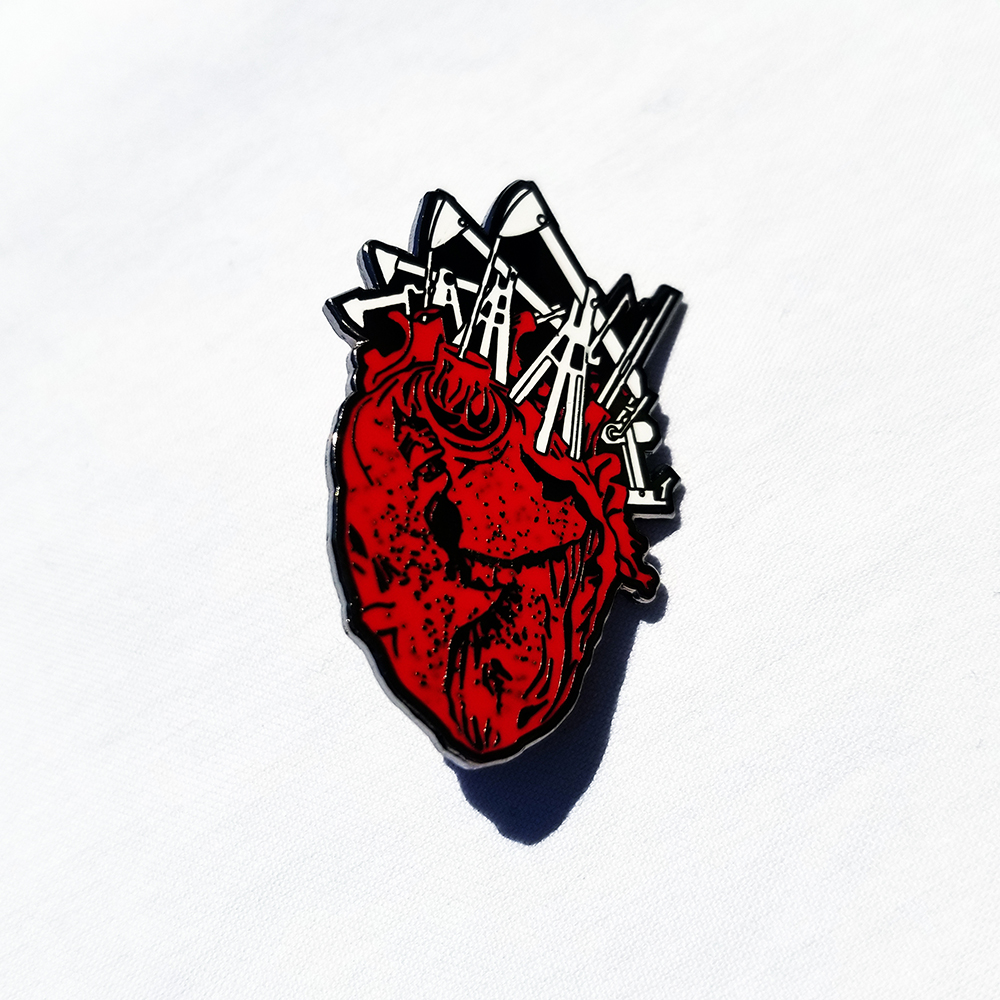 NEW "You Can't Kill Me Mother Fucker" YCKMMF Zip Hoodie
with Sage Francis "Heart" sleeve patch!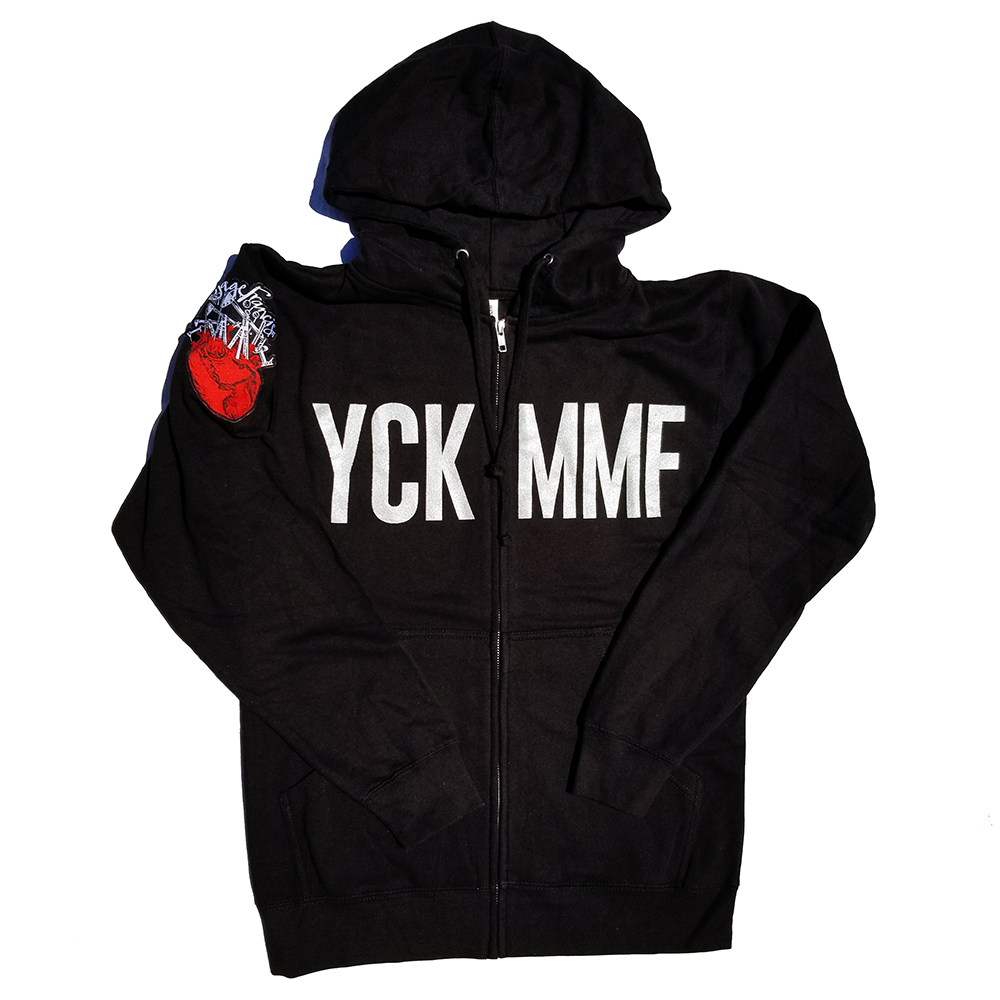 NEW "You Can't Kill Me Mother Fucker" YCKMMF Snapbacks & FLEXFIT Fitted Hats!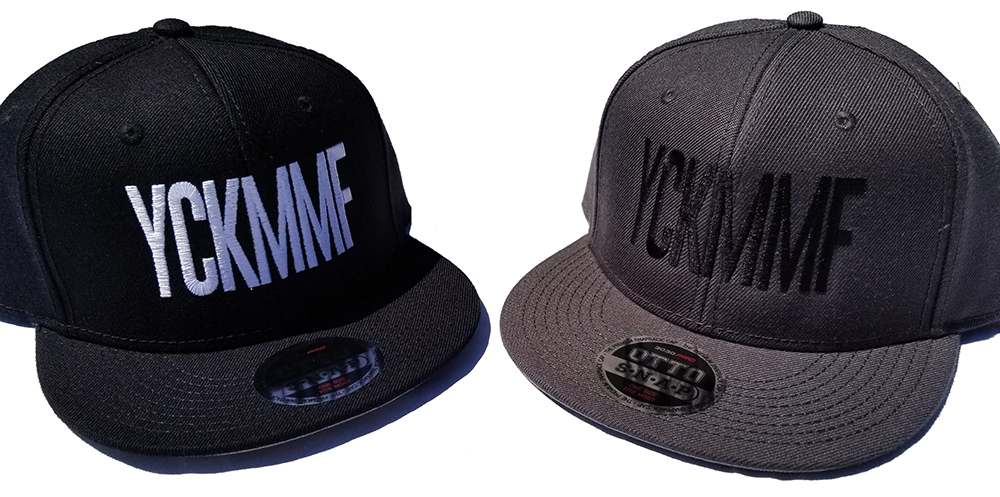 NEW "You Can't Kill Me Mother Fucker" YCKMMF T-Shirts!
Available in both Women's & Men's cuts.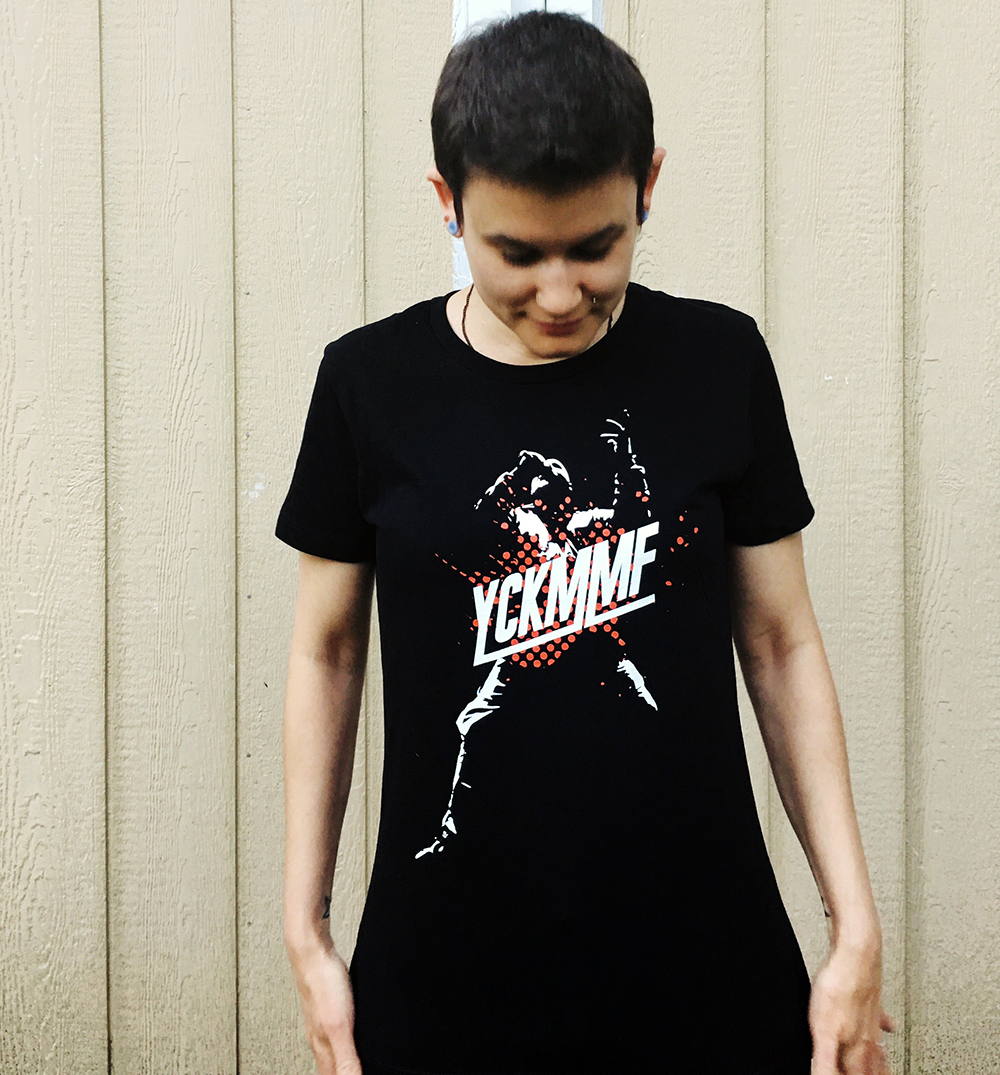 Check out a newly-restored, enhanced-picture version of the cameo-laden video for "GOT UP THIS MORNING", the first single from "Human The Death Dance"!

All available #HTDD10 merch can be viewed here, or click on the photos above.
Comments
Shanna says
Gergely says
Mike says
J says
Daniel Kritzler says